1-in-5 private wells in NH have unsafe levels of arsenic. Meanwhile, residents on public water are often unknowingly exposed to contamination from industrial chemicals and failing infrastructure.
Arsenic is a hazardous contaminant and present in the well water of many unsuspecting homes with varying levels in each region. It is an odorless, tasteless, and seemingly invisible element that poses serious health effects to those exposed.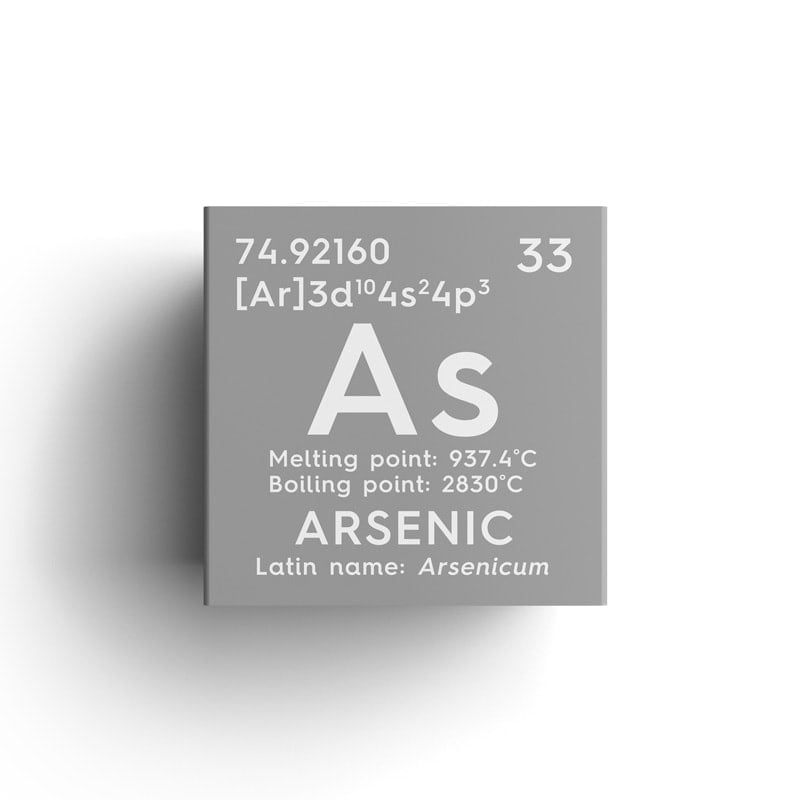 A naturally occuring metalloid most commonly found in rocks and soil, arsenic has crept through various water sources in New Hampshire, putting the southeastern region at greatest risk. It's estimated that 20-30% of well owners in the area have concentration levels of arsenic in their drinking water that exceed the EPA's maximum contaminant standard. This leaves 1 out of every 5 homes with dangerously high exposure to a confirmed toxin, though according to the World Health Organization, "there is no known level of arsenic exposure that is considered safe."
---
Health effects of arsenic in drinking water.
Arsenic is a Class 1 carcinogen that has been banned for use in certain pesticides, animal feed, and pressure-treating wood. Arsenic can contaminate private wells through agricultural and industrial waste, or most commonly by dissolving out of rock formations and permeating water sources. Because of the links found between arsenic and hazardous health effects, the FDA is considering maximum limits of the pollutant in food, alongside the EPA's standards for drinking water. Any amount of exposure to arsenic below the maximum limits, especially prolonged use, is still considered to be a potentially critical threat to health.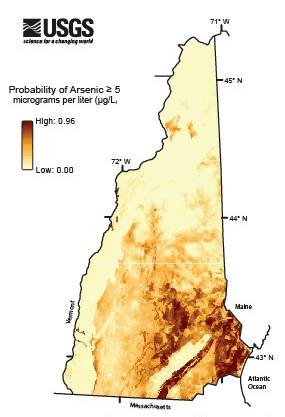 Arsenic has been linked to a number of health concerns, such as:
Liver and kidney damage
Cardiovascular and lung disease
Skin, lung and bladder cancer
Skin lesions
Diabetes
Cognitive brain development in children
Arsenic Remediation
It is recommended that well water be tested at least once every three years to ensure drinking water is safe from impurities and toxins. Arsenic removal requires professional treatment, as boiling and using chlorine to disinfect water will not remove the pollutant if arsenic is suspected. If arsenic is detected after a thorough analysis, plans to eradicate and implement a treatment method will be approached.
The NH Tap Arconic™ Water Filtration System is optimized to remove both Arsenic 3 and Arsenic 5 from New Hampshire well water. Purified water is created through the elemental reaction between the impurities in well water and the filtration materials in the system. This reaction causes impurities to bond with the filtration media, trapping and destroying them before they can be circulated into the home. This is the most cost-efficient and effective way to purify water on the market. Purified water does not harm your health with toxic metals like Arsenic 3 or Arsenic 5.
NH Tap's commitment is to provide safe, healthy drinking water for all of New Hampshire. Our team provides extensive evaluations to detect contaminants such as arsenic, and will follow up with a custom treatment plan to ensure unpolluted, purified water. Call now to speak to an expert about testing your water today.
What's Next?
Get your water tested for arsenic.