Choosing the Right Water Filter for PFAS Contamination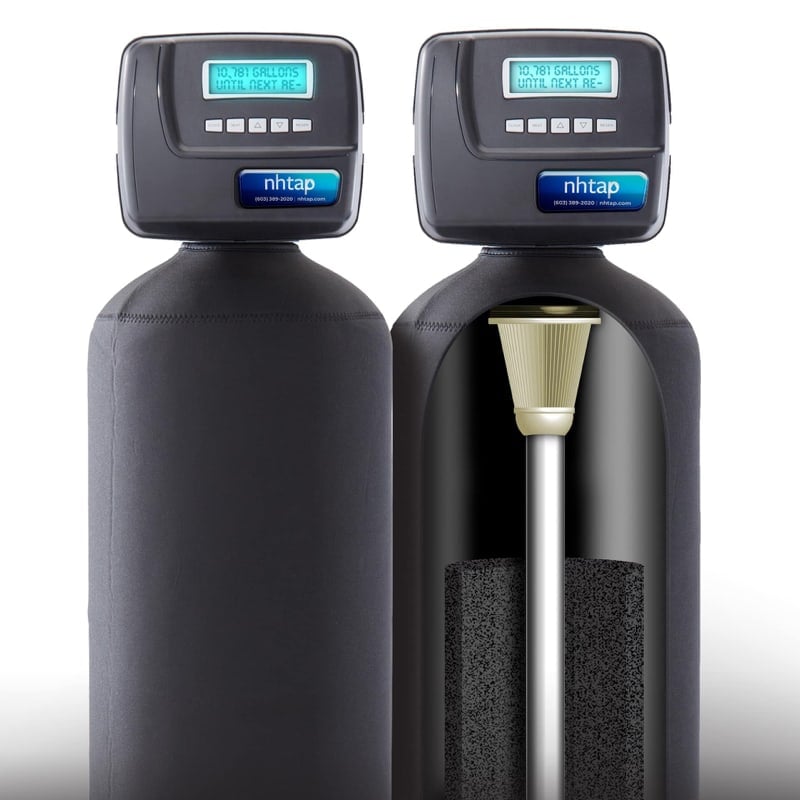 In a world where access to clean and contaminated water is paramount, concerns over pollutants like PFAS (per- and poly-fluoroalkyl substances) have brought water filters for PFAS to the forefront of so many people's minds!
PFAS Filtration Systems in New Hampshire
Safeguarding your health and your loved ones' health from potential PFAS-related health risks starts with selecting the right water filtration system. This article will review all the factors critical to choosing a water filtration system to combat PFAS contamination in New Hampshire successfully.
Understand the PFAS Water Filtration Challenge in NH
Before we jump into finding the right water filtration system to tackle PFAS, let's look at what it is and how it got to the Granite State. PFAS Are a group of human-made chemicals notorious for resisting degradation while providing potential health impacts. A staggering 32% of New Hampshire's municipal water sources have tested positive for PFAS contamination, leading many to source their water filtration systems. While the government does allow a certain amount of this chemical to be found in municipal water, we know that it can still be considered a carcinogen and rarely leaves the body once it has entered it.
The story of how PFAS contaminated New Hampshire dates back to decades ago. Early investigations revealed the presence of these chemicals in various sites across the state, often traced back to industrial companies like Saint Gobain or firefighting foam. Merrimack and the Seacoast region have a long history as focal points for the PFAS contamination concerns.
The PFAS issue rapidly grew beyond these individual sites, raising concerns about widespread exposure. As we've learned more about this dangerous chemical, residents have become more active in trying to solve their water issues. Residents who rely on private wells are particularly concerned about contamination, with this unforeseen threat to their water sources. However, the discovery of PFAS in both private wells and public water systems has sparked a call for stringent regulations and effective filtration solutions — as well as a state-funded program to help rid well-water homes of this chemical.
Selecting a PFAS Water Filter
You may be concerned about PFAS, whether you have well water or municipal water. The first step to understanding what you need is getting your water tested. Once you have the report, you can know whether you need a filtration system. Here are the factors to consider when you know you need a PFAS water filter.
Effective Filtration Technology
The Cornerstone of an effective PFAS water filtration system is its filtration technology. Be on the lookout for filters equipped with advanced mechanisms that are capable of efficiently capturing and removing these contaminants. Our whole home water filtration systems and our Pure PFAS Filtration System are equipped with carbon filters capable of eradicating 99.9% of PFAS.
Whole Home or Point of Use Capacity
When it comes to filtering out PFAS, you have a couple of options. You can use a carbon filtration unit that provides pure water throughout the entire home, protecting you from the water you drink to the water your clothes are washed in. This kind of system is always a better solution because chemicals can permeate through your skin while you're bathing and leave residue in the clothes that you wear, creating entry points that affect your body. Some people will opt for a reverse osmosis point-of-use filtration system underneath the sink if they are just looking for filtration for their drinking and cooking water. We only recommend that it be installed in very specific situations. When you have your consultation, bringing up your concerns and ideas for solutions to the water expert visiting you is essential — our NH Tap team will always provide you with a proposal that thoroughly outlines what we recommend and why.
Longevity and Maintenance
You want to opt for a filter with a practical lifespan and manageable maintenance requirements. Finding the right system that will perform long-term will guarantee consistent PFAS removal and offer peace of mind about your water's quality and safety.
Compatibility and Installation
Effective filtration starts with the proper installation. Choose the filter that seamlessly integrates into your plumbing system. When you speak with a water filtration tech, be sure that they can explain how the water filtration system is installed, how to replace the filters, and any regular maintenance requirements to give your home the most benefit.
Third-Party Testing and Certification
You can ensure that you have confidence in a filtration system's efficiency by having it tested after it is installed. Look for filtration system companies that provide these tests to ensure your water is free from PFAS.
Cost Effectiveness
While you must balance quality with cost, having a superior water filtration system may involve a slightly higher upfront investment. However, there are many long-term benefits to choosing the right filtration system upfront. Having a Dependable filtration system that efficiently eliminates PFAS will prove cost-effective in the long run and protect your health.
Customer Reviews and Testimonials
Reading up on real-world experiences is invaluable. Be sure to look at the reviews and testimonials from the different customers who experience a particular filtration system's PFAS removal capabilities. Looking at online feedback provides insight into how these filtration systems perform for other families.
Choosing the Right Water Filter for PFAS
Selecting the right water filtration system to combat PFAS contamination is a proactive step to help you know that your family is well cared for. The backdrop of PFAS history in New Hampshire reinforces how significant it is to ensure that your home does not have this carcinogen flowing through its pipes.
By meticulously considering the right filtration technology, whether you need a whole house or point-of-use capacity, the longevity and maintenance needs, compatibility and installation, third-party testing, cost-effectiveness, and customer reviews, you can find the right solution for your home. Our goal at NH Tap is to help you have clean and pure water. This goal is achievable by finding a suitable water filtration unit to combat our state's PFAS contamination issues.
Ready to ensure your water is pure? The first step is scheduling your water test today and finding the right water filter for PFAS.
---
Return to Articles